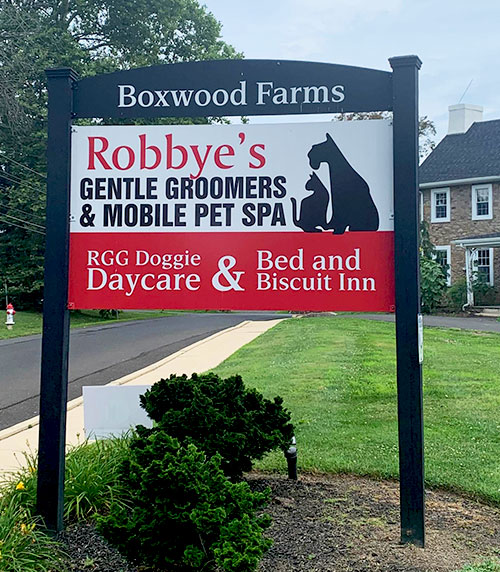 Welcome to Robbye's Gentle Groomers
---
Welcome To Robbye's Gentle Groomers- We are a family run business, that has grown over the years from a room in Robbye's house in 1981 to the 3500 sq. ft. building we occupy now. Our staff have become like family to us, many being with us from 7 to 35 years. After 33 years, Robbye retired from grooming herself, but is busy running the business along with her son, Kyle. In addition to salon and mobile grooming, we have a large indoor/outdoor Doggie Daycare facility. Our focus is always the care and well being of the precious canine family members entrusted to us.
---
I cannot begin to say enough good things about Robbyes. When I first got Snow a year ago, I started taking him to PetSmarts day care as I wasn't familiar with different options. He was never that excited when I took him (even cried a lot when I left) and when he got home he was still full of energy. When I started taking him to Robbyes, not only is he exhausted when he gets home but he is EXTREMELY excited when he goes in the morning and starts wagging his tail as soon as he sees me turn into the parking lot. He never gets out of the car quicker!! I can say that I trust Robbyes whole heartedly and know that they have only the BEST interest of the dogs and their clients in mind. Every single employee is extremely warm and friendly and accommodating (no matter how annoying my questions are). I would never think about going anywhere else and I will forever tell anyone I can that if they take their dog anywhere else for day care, grooming or any other service they are foolish. Thank you Robbyes for taking such good care of my best friend and making his life the best.

Our furbaby Picasso is a big puppy, & he had his first Grooming experience with Kacey today. We couldn't be more Thankful for Kacey & Robbye!! Picasso the nearing 5months/close to 40lb puppy loves Kacey!! She made it an Enjoyable experience for him...& he looks Beautiful!! Thank You!!

We took our rescue collie, Lady here for her first professional grooming. I was amazed at how much hair Amanda was able to remove! She looks so much smaller and just beautiful. She's soft and silky now. We will definitely be regular customers. Thanks so much!

We're fairly new to Robbye's. We took our dog there based on a recommendation as well as other reviews. We've had a couple horrible experiences with other groomers in the area. We are extremely satisfied with the service we receive at Robbye's. They do a really nice job and treat our dog as if she is one of their own. We are customers for life.

I have an elder pomeranian that gets groomed here every month. The groomer has always done a fantastic job, and is so helpful. The hours are great and I am able to leave my fur baby here without being worried.

Can't say enough about Robbye's. Such a great place to get your pet groomed. Staff is always friendly and the groomers are top notch.

We've been coming here since Hallie was 4 months old. She is now 16+ years old. I couldn't ask for better care as she has gotten older. Don't hesitate to use them for your grooming needs.

They did a great job trimming ginger & simi's nails today! THANK YOU

I have an aging Sheltie, blind and numerous tumors on her body. She cannot stand for long periods of time. They took such great care with her and was so gentle. Her grooming came out great and Bella will definitely come back next month. Thank you.

They get your pet in and out in a reasonable time. Pet looks great!

Great service, friendly staff. My dog is very comfortable at Robbye's.

Grooming is top notch!!! Our picky dog didn't like the daycare, but many others do. Reasonable prices and the staff is great!

My dog is very friendly, but very timid and he loves coming to Robbye's for grooming. The groomer always takes time to talk with me before to make sure she understands what my expectations are, and offers very helpful suggestions. My dog runs to greet her and runs to the back with her because he is so happy to be there. It makes me feel good that I am leaving him in a place where he is happy and feels good :) Thank you for always taking time with us!

I have been bringing my dogs (I've had a toy poodle, 2 golden retrievers, and a maltese at this point) and have never had a bad experience. The staff are always so friendly and really know how to run that place smoothly. My dogs were never traumatized like other places I've been to. Can't recommend them highly enough.

We recently had to kennel our two young dogs for the first time. Based on other reviews we decided to go with Robbye's for the week long kennel. It was an excellent experience from booking to pickup, and everything in between. The staff is very kind and organized, and with only a few kennels each dog got plenty of attention and care. Our pups came back very happy (and clean thanks to the excellent grooming as well!). Robbye's now has our business for life.

My puppy attends doggie daycare and we both love it there. He gets to play with other dogs and I know that he's being well taken care of. The staff is great and very accommodating. I'm glad we chose Robbye's!

Been taking my dog there for years. Prices good and they do a great job on his grooming.

Great people. Excellent, caring groomers!!

I can't say anything except wonderful things about these guys. A couple of years ago I was in need of a cat groomer and was lucky enough to find Robbye's Gentle Groomers. Each experience has been wonderful – I feel like they are part of my family! Unfortunately their cat groomer recently moved out of the area. I am so sad to have to find a new facility, but when they find a new groomer you better believe I will be coming back right away!

They do a fabulous job. My dog has no anxiety over going at all. I know my pup is in good hands.

We love this place! My Lab is phobic about getting his nails trimmed. Other groomers have been unwilling to do it without charging extra. Robbye's groomers were able to easily and gently distract him so that he didn't even notice - at no extra charge! Hooray!

My rescue dog required lots of patience and TLC. My Vet recommended Robbye's. Have been very pleased with the level of care.

Robbie's Gentle Groomer did a great job with my pom's grooming appointment including clipping her nails-- they even gave her a mohawk, just like I'd requested. I'll definitely be bringing my dog here again.